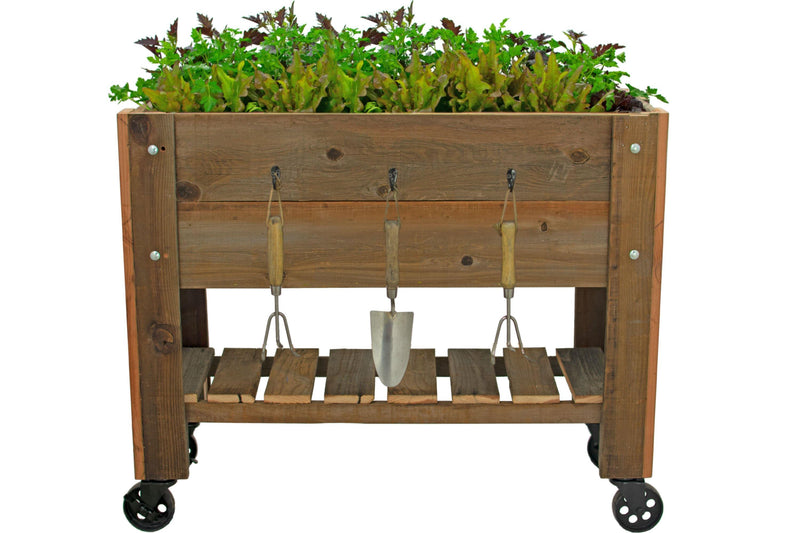 If you've been directed to this page through a link from your online purchase, Lee Display would like to thank you for shopping with us.  Below you find easy instructions on how to assemble your brand new Raised Bed Planter Box.
Check out the short video for instructions:
 All Pieces Included:
2 - Sides with Pre-Installed Casters w/ Locking Brakes
2 - Side Panels
1 - Planter Box Liner Tray
1 - Lower Shelf
8 - Bolts
8 - Washers
8 - Nuts
Step 1:
Start by standing the legs and panel sides against a supportive table.
Then take one of the side panels, with the flat side facing out, and position the corner of the panel against the corner of the leg frame.  You will be able to rest the panel on top of the supporting piece installed on each corner of the legs.
Insert the bolts into each hole.
Connect the opposite leg using the other two bolts. 
Use the supporting block to support the panel while you are picking up your other bolts.
Once the bolts are inserted, put a washer on each bolt.  Then screw the nuts onto the bolts using just your hand to tighten.
Step 2:
Connect the other panel to each leg while it is supported by both blocks.  Insert bolts into each hole and tighten the screws by hand with the washers and nuts.
Use a wrench or Drill socket to fasten down the connections.  Screw the nuts as tight as you can.
Step 3:
Once all the sides have been secured, you can install the lower shelf and liner tray.
Position the shelf between all four legs.  Then flip the shelf over so that it lays flat on all four of the wooden blocks attached to each leg.
Then insert the liner Tray one side at a time.  Make sure the tray sits beneath the bolts.
Complete!
Your Planter Box is now assembled.  You can now start gardening with your planter box.  When necessary, apply brakes on any of the four casters using your foot to switch the locking-brake on/off. 
If you have any questions or concerns during your installation, please contact us here.
Care and Maintenance:
Your planter box is made from 100% natural and locally sourced Redwood.  There are no stains or wood treatments applied to the wood. So the wood with weather naturally over time.  When Redwood is left outdoors, it tends to change color tone and texture. It will turn grey with color and the natural grains will become more exposed.  However, Redwood condenses and strengthens over time.
If you do not want the wood to turn Grey in color, we recommend applying a natural-colored wood stain to all surfaces of the wood.  Danish Oil is recommended.
Intended Use:  
Use indoors and outdoors with all types of soils and plants.  The Liner Tray is designed with a water drainage system for all your needs.  Water and fertilizer safe.