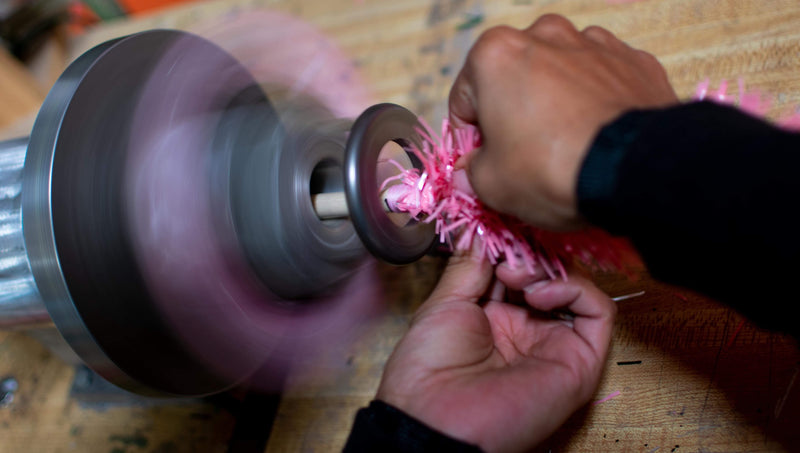 As every holiday season approaches, more and more customers ask us for information on how our tinsel trees are built. 
They're different - Yes.
One-of-a-kind - Sure.
And particularly original  - In their own right.
So what are we doing those other tree manufacturers skip?
We thought it would be a great idea to give everyone a better understanding of how Lee Display makes our unique Christmas Trees. 
First off, Lee Display's trees are all hand-made in the US.  Located just in-between Sacramento and San Francisco, Lee Display's manufacturing workshop is busy year-round producing colorful tinsel trees for every upcoming holiday.
And we mean everything!  From the vinyl tinsel leaves on the branches to the branches and all the way down to the painted wooden bases; Lee Display builds every part of the tree in-house. 
With one of our best production specialists on hand, we'll show you the step by step process of how Lee Display makes our trademarked Christmas Tinsel Trees!
How Lee Display Makes a Tree:
Step 1:
- Using a wooden dowel cut to the specific size for the tree you ordered, we measure the spacing for the branches and mark the dowels accordingly.
Step 2:
- As you've probably imagined, the wooden dowel of the tree becomes your tree trunk.  We insert it into one of our specially designed branching-machines.  
- 2 colorful cotton spools of thread are attached to either side of the branching-machine and are replaced for every different color tree we're making.
Step 3:
- Just like a sewing machine flipped sideways, Lee Display's proprietary branching-machines are powered with a foot pedal.  As you step on the pedal, the top begins to spin; wrapping cotton thread spools tightly around a tree trunk.
- Maria, our production specialist, inserts cut pieces of tinsel garland into the machine and equally spaced around the tree trunk.
- As the branching-machine spins, the branches of your Christmas Tree begin to take shape.
Step 4:
- With one layer of branches attached to the tree trunk, Maria pulls the dowel out of the branching-machine in order to cover the trunk in cotton thread and work on the next layer of branches.
Final Step:
- After adding longer and more abundant branches the further along you get with the tree, you're ready for the final touches.  
- Maria cuts the cotton thread away from the branching-machine and adds a little water-proof glue to hold the thread in place.
And with that, your trees are ready to ship for your order!